The application of the Concrete spraying machine
Concrete injection machine is widely applied in engineering construction, mining, tunnel, culvert, subway, water and electricity engineering, underground engineering and high bog coal mine tunnel shotcrete construction operation, construction of the concrete jet, can also be used for various types of industrial furnace lining refractory coating formation or repair. Can also be used to dry spray spray painting and class fiber work.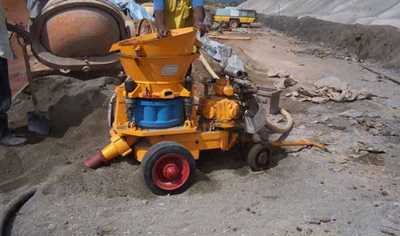 Shotcrete machine's main advantage is through the rotor chamber without binder, materials smooth and efficient time-saving: four elastic compensation compression, good sealing effect, little dust, long service life of wearing parts.Shotcrete machine adopts low vortex air transport, in order to overcome the bonding material processing, plugging and pulse from the problems, to achieve uniform flow, continuous and stable.Adopt the new polyurethane spray nozzle, spout and wear-resisting pipe bending equipment, improve the spray pattern, spray layer with high quality, low rebound.