Electric motor drive pressure vessel refractory gunite machi
While pressure vessel refractory gunite machine. it is mainly used for hot and cold repair work on other thermal kiln equipment such as converter, electric furnace, ladle, mixed iron furnace, ladle and iron hook.
It uses compressed air to blow the refractory dry powder in the tank to the front of the spray gun, mixes it with water to form a wet state in the mixer, and then sprays it onto the lining by the spray gun.
Due to the proper amount of moisture in the refractory powder, the spray effect is better.The spray material feeding amount is fixed, the operation is simple, easy to achieve automation, and the discharge amount is fixed.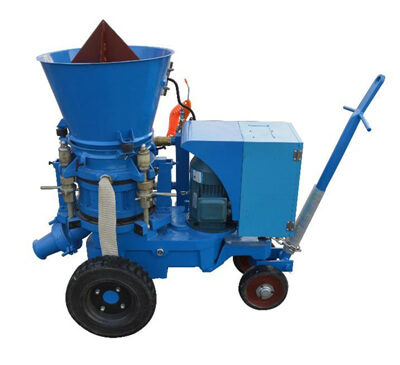 Usually for electric motor drive pressure vessel refractory gunite machine, output flow depend on switch plate and motor power size. Nowadays, switch plate diameter size have 300mm, 400mm, 500mm etc. Please check the below switch plate picture for reference.
More detailed working video information, please check the below link https://youtu.be/c5Olx6DlX-g